5.1: Everyday Routine and Wellness 🧘‍♀️
Emotional and physical well-being can have a great impact on one's quality of life. What we eat 🥑 and how long we sleep 😴 have a great effect on how we feel. Similarly, our decision to socialize with others 👋 and develop personal hobbies impact our physical and mental health. 
Una Dieta Saludable 🥕
Según la Organización Mundial de la Salud 🌐, una dieta saludable puede prevenir malnutrición y muchas enfermedades. Por los adultos 👩‍🦱, una dieta saludable debe incluir frutas, 🍉 legumbres 🥜, nueces 🌰, y granos integrales 🌾. Las siguientes surgencias vienen del World Health Organization sobre cómo mantener una dieta saludable: 
incluir verduras por desayuno, comida, y cena 

para un tentempié, consumir frutas y verduras frescas

Comer frutas y verduras frescas que están en temporada

Comer una variedad de diferentes frutas y verduras 
*Information gathered from
World Health Organization
👀 ¡OJO! 👀 There are several ways to say snack in Spanish. Some of them include tentempié, refrigerio, and merienda. Yet some countries have their own word for snack 😋, take a look below: 
| | |
| --- | --- |
| Palabra por "snack" | País |
| Un piscolabis | 🇪🇸 España |
| Una botana | 🇲🇽 México |
| Una picadera | 🇩🇴 La República Dominicana |
| Una colación  | 🇨🇱 Chile |
Dormir 😴
No hay duda de que sentimos mejor después de una buena noche de sueño 🛌 💤. Según la Organización Mundial de la Salud 🌐, la privación de sueño puede tener muchos efectos negativos en nuestra salud, incluyendo a) efectos físicos 🏋️‍♂️ como fatiga e hipertensión; b) impedimentos cognitivos 🤔 como falta de atención y motivación; c) complicaciones de salud mental 🧠.
*Information gathered from
World Health Organization
.
¿Cuándo dormimos? 
Cada cultura tiene su propia forma de dormir que corresponde a la rutina diaria de su país. En algunos países, es más común acostarte temprano y despierta temprano 🌞, pero en otros es completamente normal permanecer despierto mucho después de la medianoche 🌚 y levantarse más temprano. 
España 🇪🇸 / los Estados Unidos 🇺🇸
España es un modelo de un país que tiene un ritmo bastante diferente de los EEUU. Un día de trabajo normal en España puede ser de nueve de la mañana a dos de la tarde, un par de horas para comer 🥘 y tomar una siesta 💤, y regresar a trabajar por la tarde de cinco a ocho. En este caso, los españoles toman cerca de 3 horas para comer y descansar en la casa al mediodía y debido a eso trabajan más tarde. En los EEUU, es normal salir a trabajar a las ocho de la mañana hasta a las cinco de la tarde con poco descanso por todo el día.
Socialización 👋🧉
En adición a una dieta saludable y un sueño reparador, muchos científicos sugieren socialización con amigos o familiares para mantenerse sano. En Argentina 🇦🇷, hay una costumbre de tomar un mate, un té de cafeína hecho de yerba, con amigos mientras charlan y disfrutando su tiempo juntos.
Según muchos Argentinos, el mate es algo más que una bebida. Es una tradición que vence las costumbres aislacionistas del criollo y empareja las clases sociales... y a través de los tiempos, es el mate quien hizo la rueda de amigos, y no la rueda quien trajo al mate. Y no solo eso, también es un símbolo para todo aquel que se aleja de su país natal (Paraguay 🇵🇾, Uruguay 🇺🇾, Argentina 🇦🇷, Chile 🇨🇱, Brasil 🇧🇷 y Bolivia 🇧🇴) y encuentra en él una remembranza y un enlace con su tierra.
En 2019, Apple introdució el mate como un emoji 🧉debido a su popularidad en Sudamérica 😎🇦🇷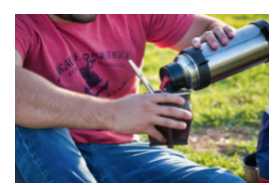 Strive for Five Vocab  🔑
La vida cotidiana - Daily life

El bienestar - Well-being

Saludable - Healthy (used to describe food)

Sano - Healthy (used to describe people or actions) 

Llevar una vida sana - To lead a healthy life

Alimentos - Food

Tentempié - Snack

Consumir - To consume

Privación de sueño - Sleep deprivation 

Fatiga - Fatigue 

Deterioro cognitivo - Cognitive Impairment